"Scuba Divers travel here to swim in what Jacques Cousteau called the 'world's aquarium'." San Francisco Magazine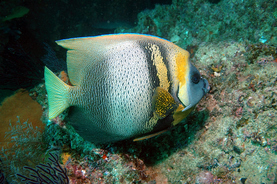 Cabo Pulmo National Marine Park
In 1995, the waters offshore from Cabo Pulmo were designated a National Marine Park by the Mexican Government. Thanks to this protection and the support from local Mexican and American communities the park is now one of the most impressive sites in the world.

There is a variety of sites to choose from here, you will be sure to see vast schools of Big Eye Jacks, Yellow Snapper and Panamic Porkfish with Leopard Grouper congregating in their hundreds, along with all number of flourishing sea life to delight you. Located 40 miles South of Buena Vista, we will pick you up and drive you to the park where our boat will be ready to go. Cabo Pulmo is not to be missed.



---
Punta Pescadero

Never a disappointment, a vast site to explore with mesmerising schools of pretty reef fish, Snappers and Groupers. Hard corals and sea fans make up the backdrop. Depths of 40'







---

El Cardonal

A shallow site offering a kaleidoscope of colour. Discover Parrotfish and Moray Eels hidden amidst the sparkling array of vibrant corals. Lots of macro life to see here too. Depths of 30'

---
Isla Cerralvo

The reef is a long bar with a steep drop off. Hidden treasures are everywhere for those that take the time to look, Stone Scorpion fish blend perfectly to their backdrops and Zebra Morays peak out from overhangs

---

Punta Perico

A whole different world, with a terrain of big boulders it makes for interesting topography. Rock formations provide caves with swim-throughs and plenty of places to seek out the more elusive creatures. Depths of 70'+

---